Skype for Business SIP TRUNK

SKYPE SIP Trunk Adnavtages:
Cost Saving, better connectivity, larger coverage


Enhances Productivity and Communication
SIP trunking in Skype for Business Server
Skype for Business server uses SIP to initiate and manage Voice over IP (VoIP) for basic telephone service and other real-time communication services, such as instant messaging, conferencing, and file sharing. This page provides information and advantages of SIP Trunking for Skype for business, and what to look for when choosing right SIP Trunk provider for you business.

Skype for Business with SIP Trunk Provider
This brief architecture of the big picture will help you understand where DIDforSale as SIP trunk provider interconnect with Skype for business server using SIP. Once you complete SIP Trunk configuration with SIP service provider, your business will be connected to the rest of the world.
DIDForSale is certified SIP Trunk provider for Skype for business and have created a detailed step by step direction to configure skype for business SIP Trunks with our SIP gateways. To access the integration document visit  Documents Library.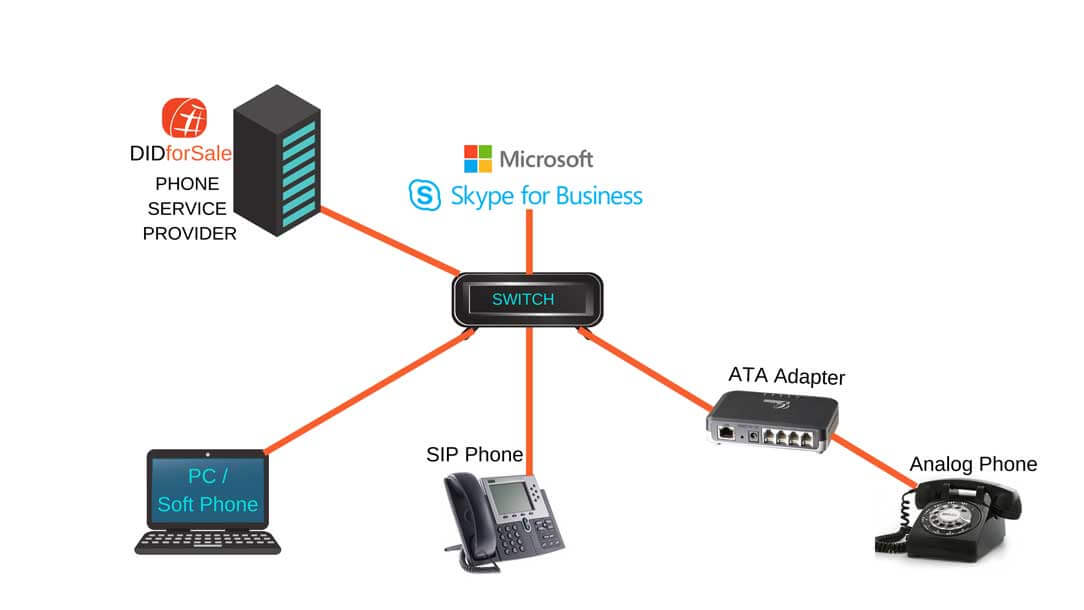 Easy Integration
Since we are Certified SIP Trunk provider for Skype for business therefore setting up interconnection is extremely easy. Already tested and documented service can get you started in an hour.
Scalable & Flexible
Build a fully scalable and flexible system with largest SIP Trunk Provider in nation. Get the SIP Trunk anywhere in the country and enjoy flexibility to increase/decrease SIP Trunks based on your needs.
Highly Trained Team
Need Support or Consultation? Our highly qualified technical team is always available to help you make right decision and make your transition smooth.
Advantages or SIP Trunking for Skype for business
Understanding SIP Trunking for skype for business?
A SIP trunk is an IP to IP connection that setup and communications link between your organization and SIP Trunk provider beyond your firewall using SIP (Session Initiation Protocol). Typically, a SIP trunk is used to connect your organization's central site to the provider.
Deploying SIP trunking can be a big step toward simplifying your organization's telecommunications and preparing for up-to-date enhancements to real-time communications. Biggest advantages of SIP trunking is that you can consolidate your organization's connections to the SIP Trunk service provider at a central site, as opposed to (TDM) trunking, which typically requires a separate trunk from each location. Because DIDForSale offer SIP Trunking service in 13000+ rate centers in US, UK and Canada, therefor we can be one stop solution for SIP Trunk at all the locations.
Cost Savings
The cost savings associated with SIP trunking can be substantial:
Long distance calls cost much less through a SIP trunk.
You can cut manageability costs and reduce the complexity of deployment.
Basic rate interface (BRI) and primary rate interface (PRI) fees can be eliminated if you connect a SIP trunk directly to your SIP Trunk provider at significantly lower cost. Check out SIP Trunking Pricing
SIP Trunking vs. Hosting a PSTN Gateway or IP-PBX
Because SIP trunks connect directly to the service provider, you can eliminate your PSTN gateways and their management cost and complexity. Most importantly using a SIP trunk can lead to substantial cost savings through reduced maintenance and administration.
Ready to start? Choose the Certified SIP Trunk provider for your Skype for Business Server
Great Service so far! Helpdesk only few minutes away, very knowledgeable staff. HD voice quality and rock steady connection
DidForSale has been my dirty little VOIP secret for years. Awesome product at awesome prices, and their support is top notch.
DIDForSale is a highly valued partner for our business." best services never had problem with my DID'S
Try our service for your Skype for Business and you will never look for another provider!
Get Free Quote -or- Ask a Question