SMS API
Make the most out of your customer interactions! 
Send text messages to get your customers attention and watch your business grow. 
Checkout documentation & get started quickly. ⇒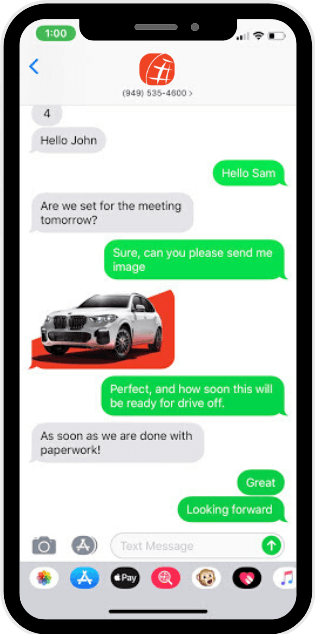 Get started in 5 mins
Signup and begin texting immediately. Our intuitive system does not require any technical skills.
Build and Scale quickly
Reach more customers with SMS. Our SMS API is easy to use and scales with your business needs. 
Build a Stronger Brand
Let them know who you are. Use your business phone number to connect with your customers.

Ways to send & receive SMS
Local Phone Numbers
Improve your customer experience by using local phone numbers to send SMS & MMS messages. This will ensure you are not stuck with a random 6 digit shortcode that your customers don't recognize. You can now leverage your business phone number to send messages. All of the phone numbers from DIDforSale are SMS enabled. You can now use local business phone numbers to send promotional messages, notifications, appointment reminders and any other form of messages. 
Toll-free Numbers
Toll-free numbers have been businesses prefered choice for branded global interactions. Our toll-free numbers are SMS enabled and you can use the same phone number for both your voice and messaging. You can use toll-free numbers with any of these prefixes  800, 888, 877, 866, 855 or 844 to send SMS & MMS messages. Toll-free phone numbers are also classified by CTIA as A2P (application to person) which allows you to send bulk messages to your customers from the same phone number.
Vanity Phone Number

STAND OUT by using a Vanity phone number. Vanity phone numbers help your business create stronger identity with easy to remember phone numbers. Now you can use the same vanity phone numbers for voice and messaging.

Increased Efficiency
Manage messages with automated tasks.
Increased Visibility
Track every message sent.
Flexibility
Manage how you want to send/receive messages.
Fast & Reliable
Send 100s of messages in minutes.
Easy Integration
Works with 3rd party tools.
Better Analytics
Connect with webhooks and build reports.
SMS API USE CASES
Notification

Keep your customers informed and notified from time to time. Some of the examples of notifications are delivery notifications, account activations, reminders, etc.

2-Factor Authentication

Secure your customers' accounts & information. With 2-factor authentication, this adds a layer of security to avoid fraud.

Alerts

Keep your customers informed by sending urgent or non-urgent alerts. Some of the examples of an alert notification are severe weather messages, crime alert in a neighborhood, bank transactions etc.

Schedule Updates

SMS has made it easier to get customer's immediate attention to last-minute changes flight schedule, hotel reservation, & package delay.

Reminders

No more missed appointments or meetings. Send timely reminders and schedule updates to avoid no shows.

Scheduling

Manage meeting schedules, staff schedules, shift schedules, volunteer schedules, and all your other scheduling through SMS and keep everyone on top of their schedules

Sales & Support inquiries

Customers like talking to real people but they might not always be able to take a call. Respond to your customer's queries through convenient messaging.

Promotions

Businesses have attained maximum success in marketing with SMS. Promotional messages have not only brought more traffic but has also given a boost to sales.
SMS is the preferred way for communication by consumer. With the high open rate and response rate, it has become the industry's favorite channel to communicate. SMS APIs are helping businesses achieve higher success by providing flexibility  and automation.

Great support. Both sales and support very helpful and great rates too! Highly recommend!
OUTSTANDING services - OUTSTANDING support - OUTSTANDING team and DYNAMITE Quality. DIDForSale you ROCK !!!!!!!!!
Both Sales and support are extremely helpful. Pricing is extremely competitive. Thank you guys so much 1

Want to learn more?
Please submit your question and provide your contact details. One of our sales experts will get back to you promptly and answer any questions you may have.