Take your business to your customers. Get virtual local phone number from anywhere in USA and create multi location presence right from your desktop.
What is Virtual Phone Number? 
Virtual phone numbers, also known as DID 
(direct inward dialing) 
numbers are the phone numbers that are used to route calls to a specific phone number. A virtual phone number is not tied to any specific phone line. With virtual phone numbers there is no limitation to physically tie a phone number to a device. This gives businesses an opportunity to control and route their phone numbers to anywhere in the world. VoIP has made it easier to buy virtual phone numbers through various VoIP providers. You can simply log into your account and purchase the phone number from any available area code.
What are the benefits of Virtual Phone
Number? 
Available anywhere
Virtual local phone number allows a business to get a phone number from any city of state they wish to market their business. It does not require then to have physical store presence.  
Helps streamline business operations
If you are a business with multiple locations or branches then you can use virtual business phone numbers to operate as one unified workspace. Calls can be seamlessly routed and channeled for optimum output.
Increased Flexibility
Take your business anywhere. With virtual local phone numbers you can now call/receive from your office phone while traveling. It also gives flexibility to remote workers to handle all the business calls from wherever they are.
How to Buy virtual phone number?
---
Create your free account on DIDforSale 
➤
Easy set up and get started in less than 5 mins.
Buy virtual number for any area code   
➤
Search, and then select the phone numbers and click buy.
Start using   
➤
Manage all your numbers through portal and unleash opportunities.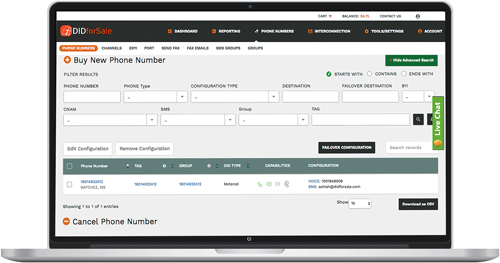 what can you do with virtual phone
numbers?
Create a stronger Brand
Get local, tollfree & vanity phone numbers from all over USA to create presence across the country.
SEND SMS/MMS
Use your virtual office phone number to send business SMS/MMS and build stronger customer relationships.
IVR
Design a custom IVR system that meets your business requirements. Use it to manage and route your call flow.
Call Tracking
Measure your marketing efforts. Call Tracking helps optimize your marketing efforts and boosts ROI.
Authenticate
Reduce fraud. Use two factor authentication to verify your users by SMS or Voice
Save more
Take benefit of our flexible pricing option and choose the plan that best fits your needs.
largest virtual / local phone number provider in the country
With 13,000+ rate centers we are the largest local phone number provisioner in the country. Choose from local phone number, toll free number or vanity number.
CALIFORNIA
Irvine
Los Angeles
Long Beach
San Diego
San Francisco
San Jose
NEW YORK
Albany
Buffalo
New York City