SMS marketing is one of the most effective types of marketing around. An SMS message has an open rate of 98%, when compared to 20% with an email. But before you start sending SMS text campaigns, you need to make sure that you're compliant with the legal regulations.
These regulations are designed to protect consumers from low-quality marketers and spam. Here's what you need to know.
Get Permission
You can't cold call with marketing texts. TCPA (

Telephone Consumer Protection Act )

requires you to obtain "express written consent" from your recipients prior to adding them to your marketing campaign lists. The recipients can provide consent either by filling out paper/web form or by using the opt-in keyword as provided by you. The consent must be clear, precise and easily available. Here is an example of Text message Opt in option:-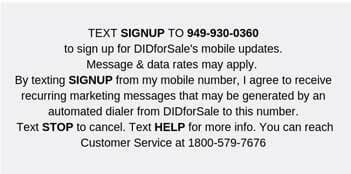 Opt-in-Confirmation
Once the subscriber sends the message with the code on the given number make sure you send Opt-in confirmation message. When sending confirmation message include following information:-

Your Identity (business/organization name)
Confirm the subscription
Notify message frequency.
Clearly state the Opt out & Help options.
Inform subscriber for any message/data rates that may apply.
Here an example of message exchange between subscriber and business.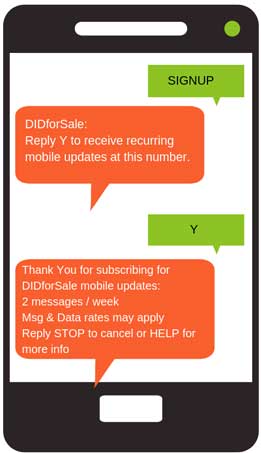 Maintain Do Not Call List

For all the subscribers who have opted out or do not wish to receive any SMS message from your business then please maintain them under Do Not Call List.
Conclusion: Following These Compliance Guidelines Will Simplify SMS Marketing
Compliance isn't as difficult as it sounds. Just use the same principles you would use with email marketing. Follow SMS Compliance guidelines as stated by CTIA and TCPA to enjoy a successful SMS marketing campaign!
Please Note: The information in the post summarizes and contains DIDforSale's interpretation of SMS compliance. Its an interpretation and not legal or compliance advice and you may not rely on them.
Maximizing Reach and Engagement: The Top Benefit of SMS Marketing for Your Agency As a marketing agency, you know that reaching and engaging with your target audience is key to your success. SMS marketing can be a powerful tool to help you achieve this goal. By...
read more
Learn more about our Products
Visit SIP Trunking Pricing to see which plan suits your business!
With so many options to pick from it can often be hard to decide what's best.
Our plans have been packaged together to give you optimum output.
Our SIP Trunks are Compatible with wide range of PBX & Platforms.