Special Intro Offer
FREE

First Month
7 Bulk SMS Marketing Tips.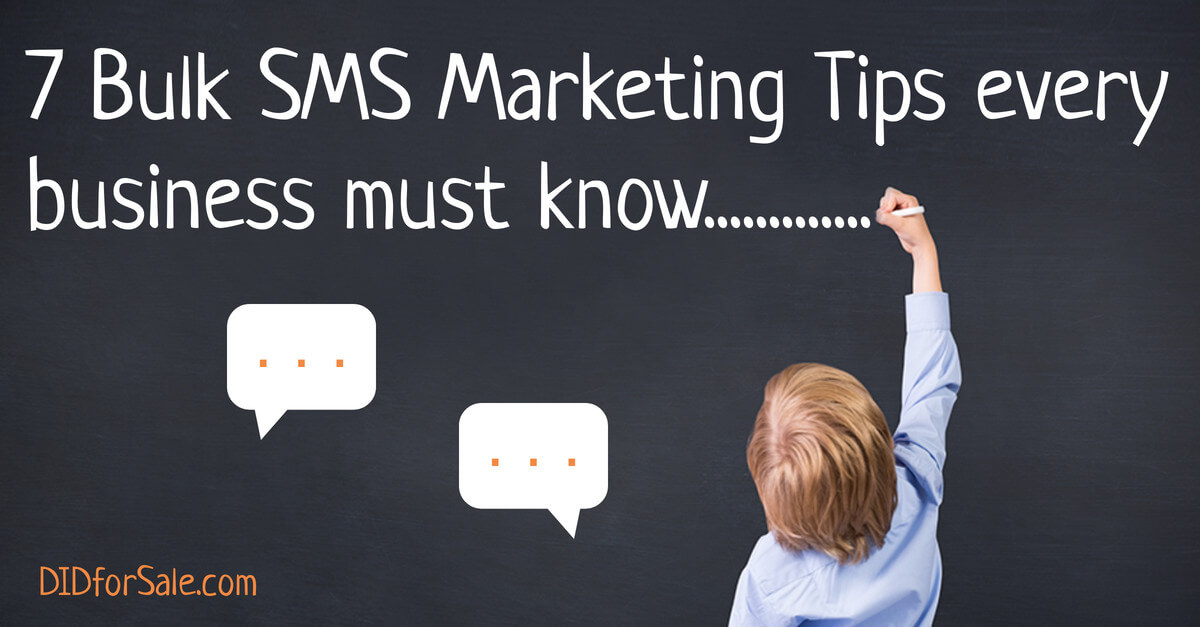 Bulk SMS marketing is extremely valuable in advancing business exercises and expanding sales volume altogether. SMS is a preferred customer communication medium and is also popular business choice for customer interaction, notification, alerts, and business campaigns. Organizations can utilize bulk SMS to promote various aspects of their business. Whether it is to manufacture planned client database, to create leads with successful campaigns, to give extraordinary offers loyal customers or to hold existing clients through the timely feedback process. Investigate our top tips to plan your next SMS advertising campaign
We call this buyer persona. It means to ensure that the reason for the SMS is made clear. You want the recipient to act on your SMS, so tell them what they need to do to benefit from the information they have been sent.
Bulk SMS marketing's definitive objective is to build your ROI and there numerous approaches to do this, however, the most ideal route is to ensure that your SMS campaign is firmly significant to the individual you are sending it to.
This is accomplished through division which just means putting your contacts into explicit contact groups. For example; if you run a health club and you have a contact group named "Yoga Subscribers" then you're not going to make the mistake of sending them an SMS campaign promoting swimming gear. You can always segment based on location, purchase behavior, spending patterns, frequency of purchase, and personal interests.
Expert bulk SMS marketing administrations adhere to a fundamental guideline to abstain from spamming. Send profoundly important, applicable ideas to individuals who have given you consent to receive SMS promotions and correspondences.
If you send messages too frequently then the client may get irritated and withdraw from the subscription. However, if you leave long gap between messages, then the client may lose interest and your message might not hold much importance. There's no fixed measure of messages you ought to send every week or month – the recurrence should be tweaked dependent on your crowd and the reason for your messages.
Fresh and Engaging Content:
Reach your customer groups appropriately, and keep away from over sending similar SMS showcasing message to recipients. Keep your correspondence new and engaging. Do not overdo it.
The majority of your campaigns ought to have the option to fit inside 160 characters yet there will be times where you should go past that content cutoff. Suppose you have to compose a message that requires 300 characters simply type out your message in two subsequent messages and when you send it out it'll be sewed together into one long SMS message on the receiver's side.
To guarantee you're following SMS promoting best practices it's significant that you or your advertising group know about the laws around SMS.
Click here to checkout CTIA Compliance guide.
Why to manage a phone system
when you can get for free.
Maximizing Reach and Engagement: The Top Benefit of SMS Marketing for Your Agency As a marketing agency, you know that reaching and engaging with your target audience is key to your success. SMS marketing can be a powerful tool to help you achieve this goal. By...
read more
The Importance of SIP Trunk Providers for Small and Medium-Sized Businesses Small and medium-sized businesses (SMBs) face unique challenges when it comes to communication. In today's fast-paced business environment, effective communication is essential for success,...
read more
Learn more about our Products
Visit SIP Trunking Pricing to see which plan best suits your business!
With so many options to pick from it can often be hard to decide what's best.
Our plans have been packaged together to give you optimum output.
Our SIP Trunks are Compatible with wide range of PBX & Platforms.